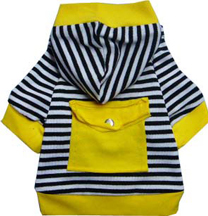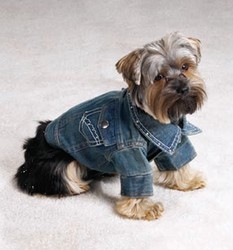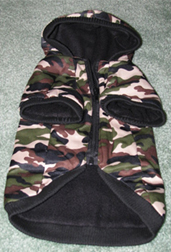 Our Tails of the West Denim Jackets are great looking and comfortable.Vintage denim with rhinestone-studded pockets and collar and a chic western-style back yoke.Loose fit, comfortable design.Four Velcro closures for a secure fit.
---
This Jacket is available in the folowing sizes for puppies and dogs:
X-Small fits up to 8"
Small fits 9"-12"
Medium fits 13"-16"
Large fits 17"-20"
X-Large fits 21"-24"

Apparel Sizing Guide

To ensure the correct fit, measure from the base of the neck to the base of the tail. The number in inches corresponds to the size Number. Also, if dog has a stout build, a deep chest, or is overweight, we recommend going up a minimum of one size for proper fit.
Cute and fun striped sweater hoodie for dogs.
Comfortable and cute with a functional pocket. (snap is for show only) Reasonably priced. Sizes available are 8, 10 and 12. Please see size chart for a more complete sizing.
Your dog will love roaming around in this cool looking outfit.
Striped oufit is $8.99
X-Small $19.99
Small $21.99
Medium $23.99
Large $26.99
X-Large $30.99
Shipping: Continental U.S. only
Shipping is $6.00 for orders up to $50.
For orders $50-$100 shipping is $9.00 total.
Orders of over $100 the shipping is Free.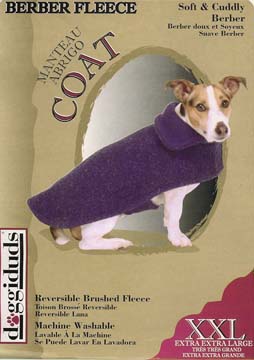 Berber Fleece Coat Machine Washible.
Navy Blue
Medium $9.99
Large $9.99
X-Large $14.99
XX-Large $15.99
Simple but your puppy ot dog will love this on those cold nights.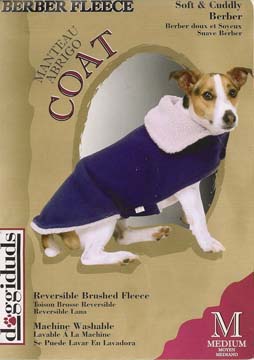 Berber Fleece Coat (Reversable)
Machine Washible
Purple
X-Small $16.99
Small $11.99
Medium $10.99
Large $11.49
Reversable to match the color of the shoes your puppy or dog is wearing. (LOL)
Be sure to check out our dog and puppy vitamins in the supplements section for a strong and healthy puppy!
Dog and Puppy Clothes.
Camouflage Hoodie Jacket for Dogs and Puppies
Small size 8 - $9.99
Medium size 14 - $10.99
Large size 18 - $11.99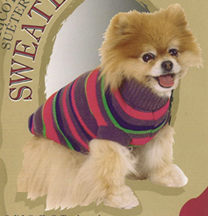 Cozy Chenille Dog Sweater Striped with Bright Colors as Shown.
Sweater made by doggiduds.
Sizes available are medium, large and x-large.
$8.99